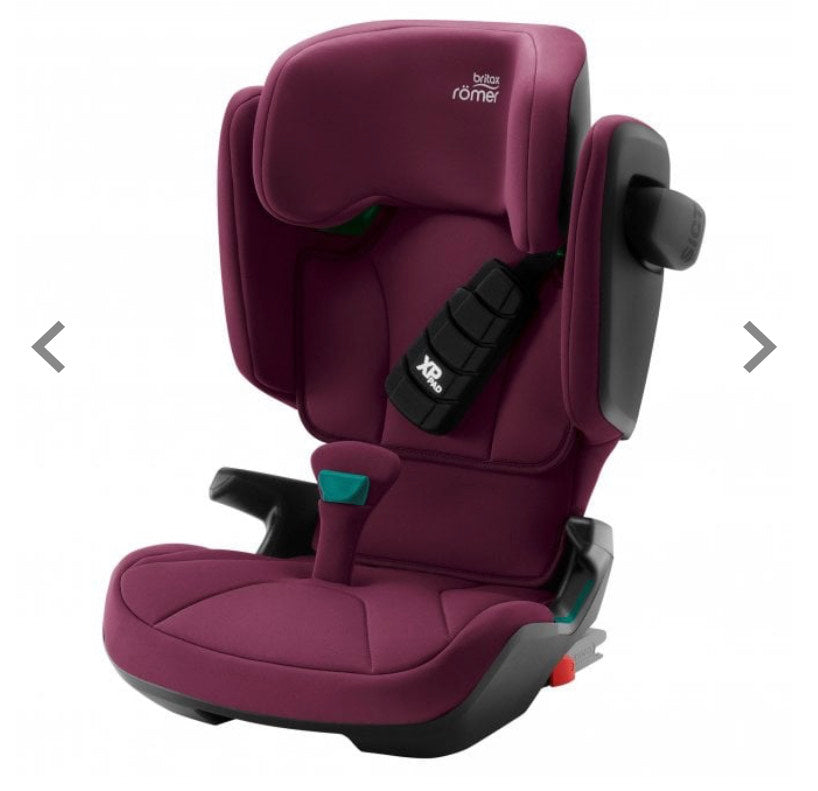 Britax Römer KIDFIX i – SIZE High Back Booster Car Seat
---
Britax Kidfix i-Size 
The safest Kidfix to date has been developed in partnership with leading car manufacturers.
The unique XP Chest pad absorbs up to 30% energy in a frontal impact. 

SICT (side impact protection) reduces the side impact forces by up to 40%

Secureguard reduces abdominal forces by 35%
Britax Kidfix i-Size is suitable for children from 100cms to 150cms (3.5 years to 12 years). We always recommend rear facing your children for as long as possible to a minimum of 4 years before moving onto a high back booster. 
The new generation KIDFIX i-SIZE has been developed in partnership with leading car manufacturers, to give the ultimate car travel safety to your child. It's equipped with the proven technologies of XP-PAD and SecureGuard for frontal impact protection, whilst the new design SICT protects your child from side collisions. Carefully placed air ventilation holes aid air circulation to keep your child comfortable for longer.
KIDFIX i-SIZE has been designed and approved to the new i-Size standard, making it our safest KIDFIX* to date. Every feature on the seat has been developed with one thing in mind - maximum protection. The proven technologies of XP-PAD, SICT and SecureGuard, now combined with the redesigned seating area for optimum crash performance, offer all-round protection.
Comfort and practicality at its core
Comfort and practicality come as standard with the KIDFIX i-SIZE. The generously padded soft fabric covers and carefully placed air ventilation holes on the shell ensure your child travels in comfort for longer. The slim design of the seat allows for three KIDFIX i-SIZE seats to be installed in the back row of a wide range of cars, whilst the headrest markings help the parents find the right headrest height every single time.
Sustainable Quality – caring for the world our children grow up in
The cleverly engineered KIDFIX i-SIZE weighs around 1.3 kg lighter than its predecessor, and is designed and made in our factory in Germany – helping with shorter transport routes and minimising the impact on the environment. We've also replaced our packaging with sustainable options: you'll find the KIDFIX i-SIZE packed in plant-based bags and recycled cartons from responsible sources. Even the mighty swift tags we use to attach product information are biodegradable on soil, resulting in no microplastics entering the ecosystem.
Unique protection for the neck and chest
Despite good planning and careful driving, you can never prepare for a collision. To protect your child's sensitive neck area in case of a frontal impact, Britax Römer has developed a shock-absorbing foam pad. It prevents the impact of your child's chin on their chest, absorbing up to 30% * of the energy. A jerky forward head movement is reduced and the neck is protected. At the same time it provides additional padding around the edges of the seat belt.
Advanced Side Impact Protection – SICT
Our SICT offers superior protection to your child in the event of a side collision. It reduces impact forces by minimising the distance between the car and the car seat and deforms to absorb the energy before it reaches your little one. 
SecureGuard
The SecureGuard helps to protect your child's delicate abdominal area by adding an extra – a 4th – contact point to the 3-point seat belt. By keeping the lap belt in an optimal position over your child's pelvic bones SecureGuard helps reduce abdominal forces in the event of a frontal collision by up to 35 %*, and at the same time allows your child freedom of movement during the journey.
Product info
Type: High back booster 
Installation: Isofix or belted
Height: 63cms-83cms
Width: 48cms
Depth: 42cms
Certification: R129 (i-Size)